This Is the Paint Color You Should Use If You Want Your Home to Sell?
Never underestimate the power of a fresh coat of paint.

Selling a home with an electric, lime green living room in 2018 is going to be more difficult than you may have anticipated. In fact, your home might sit stagnant on the market for quite some time. The reality is that paint color packs a serious punch in the real estate game.
So, which colors are going to sell your home?

Did you know that Americans have an obsession with the color blue, but it turns out, it's a phenomenon that translates to real estate, too! Zillow's 2017 Paint Colors Analysis found that homes with blue bathrooms (often powder blue or periwinkle) sold for about $5,400 more than expected. The bathroom color you'll want to avoid when selling your home? White. Houses with white, off-white, or eggshell white bathrooms sold for about $4,035 less than similar homes.

In the study, Zillow analyzed photos of more than 32,000 homes sold in the U.S. to see how paint colors might have affected the price. Interestingly, bathroom color seemed to have the biggest impact of all the rooms in the house. Other top performers were bathrooms painted in comparatively cool neutrals, like light gray or oatmeal.

Color can be a powerful tool for attracting buyers to a home, especially in listing photos and videos.

Blue works its magic in other rooms, too. Homes with soft blue kitchens sold for about $1,809 more, while yellow kitchens brought prices down by $820 on average. In the dining room, walls coated in slate blue, gray blue, or navy blue with white shiplap were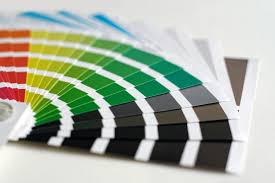 worth $1,926 more, and red dining rooms took a $2,031 hit (yikes!). Blue bedrooms (light cerulean to cadet blue) added $1,856 to a home's worth; compare that to pink bedrooms, which saw a slight decrease in sales price ($208). Even painting the front door gray or blue bumped houses' price tags up $1,514.
Why? Painting walls in fresh, natural-looking colors, particularly in shades of blue and pale gray not only make a home feel larger, but also are neutral enough to help future buyers envision themselves living in the space, incorporating light blue in kitchens and bathrooms may pay off especially well as the color complements white countertops and cabinets, a growing trend in both rooms.
The only room where it doesn't pay to go blue? The living room. Homes with blue living rooms suffered $820 on average, whereas brown living rooms (whether light beige, pale taupe, or oatmeal) sold for $1,809 more, proving our prediction that brown is making a major comeback to be true.
Here are the full findings:
Kitchens
• Blue (light blue to soft gray-blue): +$1,809
• Yellow (straw yellow to marigold): -$820

Bathrooms
• Blue/purple (light powder blue to periwinkle): +$5,440
• White/no color (off-white or eggshell white): -$4,035

Bedrooms
• Blue (light cerulean to cadet blue): +1,856
• Pink (light pink, to antique rose; often found in kids rooms): -$208

Dining Rooms
• Blue (slate blue to pale gray blue; navy blue with white shiplap): +$1,926
• Red (brick red, terracotta, or copper red): -$2,031

Living Rooms
• Brown (light beige, pale taupe, oatmeal): +$1,809
• Blue (pastel gray, pale silver to light blue, periwinkle): -$820

*Note: All dollar amounts are averages. We can help you with a complete Market Analysis. Please feel free to contact us directly.